The company already adds more than 1,000 small businesses as delivery points, as well as 1,200 new independent delivery people.
The e-commerce company Mercado Libre wants to facilitate its deliveries in Mexico and will create "package agencies", a scheme with which it will convert small shops and small businesses into product delivery points.
In addition, the Mercado Envíos Extra plan, will incorporate autonomous distributors to make deliveries independently.
The general director of the company in the country, David Geisen, pointed out that with the network of agencies they seek to support the economic recovery since they are generating income for more than 1,000 businesses under this scheme.
"It is a lot of economic activity for those little shops and those locations that may have been impacted by the pandemic and the idea is to generate another source of income, in addition to improving the level of services for our businesses," he said at a press conference.
He also explained that Mercado Envíos Extra is a technological solution that integrates independent solutions to Mercado Libre's logistics network, which also allows them to generate income by making deliveries with their own vehicles, at the times and routes they prefer.
According to the director of Logistics and Transportation of the company, Omar Ramírez, detailed that the "package agencies" will help them to be closer to their sellers and buyers on the platform since they can drop off or pick up their products in these businesses.
So far, he said, they have more than 1,000 businesses in 13 states of the Mexican Republic, from neighborhood stores, stationery stores or hardware stores, but they have the goal of reaching 1,800 businesses added in this scheme and covering the entire national territory.
Each business can receive up to 10 pesos per package, access to advertising and company services, such as Mercado Pago.
In this sense, the company specified that they are focused on working with small businesses at this time, so it ruled out adding convenience store chains or of another type, for the time being.
The idea is simple, these common and popular places in the country's colonies serve as a meeting point where users can pick up their packages, and sellers can take them so that Mercado Libre can later pick them up and add them to its logistics network for the delivery.
This option can be requested by a user when he is going to receive a package but is not at home, in this way he can receive it in his "trusty little store". 
The agencies are present in 13 states of the country: Mexico City, State of Mexico, Puebla, Querétaro, Jalisco, Nuevo León, Yucatán, Quintana Roo, Chihuahua, Sonora, Sinaloa, Baja California and Baja California Sur. The goal for the end of the year is to reach a presence throughout the national territory with more than 1,800 establishments.
For your business to become part of this network of agencies, you just have to enter this link and register to continue with the process.
Mercado Libre says that this can help businesses generate more sales due to the number of users that will come to their stores.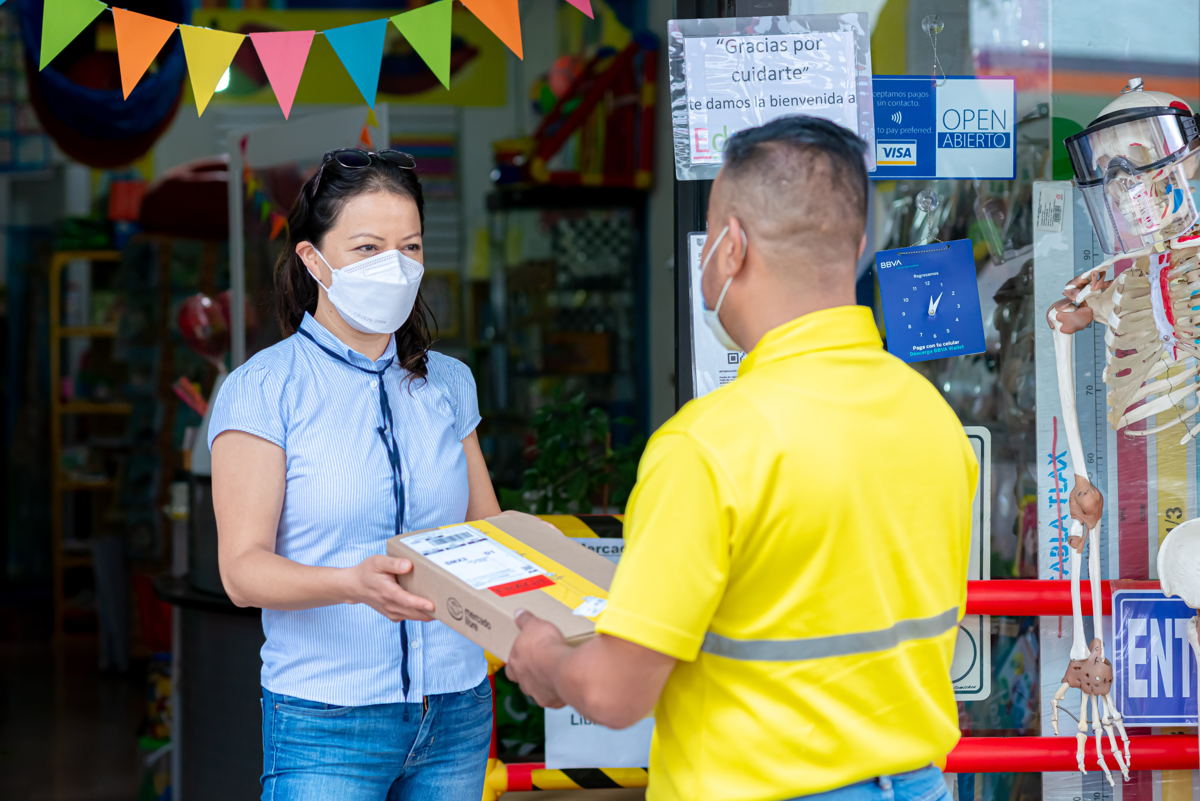 Independent deliverymen
Under the name of Mercado Envíos Extra, now users who have a car can make shipments on routes of 6 or 9 hours and earn between 642 pesos and 960 pesos per day. 
The company mentioned that users who want to join can choose the day that best suits them to make deliveries, as well as the coverage area where they want to deliver the packages.
Currently 5% of Mercado Libre's logistics network falls to external distributors, and they expect to reach 15% by the end of the year.
Mercado Envíos Extra is already present in six cities of the country and more than 1,200 independent delivery people are using the application. We have the objective of growing and reaching a presence in more than 30 cities for the strong season of the year that begins with the Good End, said Omar Ramírez, director of logistics for Mercado Libre México.
To be an independent delivery person, users must have a car, insurance and papers in order. Those interested can register at this link and download an application to receive route and delivery data.
Finally, independent couriers will only have to go to last-mile stations to deliver their documents, pass validation, and start earning money delivering packages.
Ramírez explained that in order for them to join the network, small businesses must be an established business, issue invoices, and have the possibility of having hours from 8:00 a.m. to 9:00 p.m. from Monday to Friday, in addition to having space for store packages and register on the site Kangu, platform recently acquired by Mercado Libre.
The manager specified that this model is already operating in Mexico City, Guadalajara, Monterrey, León, Puebla and Pachuca; But its goal is to reach more than 30 cities by November and add more delivery people, who can earn daily incomes of up to 960 pesos for a 9-hour route.
"We think that with these two initiatives we are expanding Mercado Libre's presence in Mexico, but we are also reaching all areas of the Republic with greater ease and speed and improving the user experience," said Geisen.
Last April, Mercado Libre announced that it would invest 1,100 million dollars in Mexico in 2021, 161.9% more than last year, with the aim of doubling its storage centers, strengthening its logistics network, as well as its fintech business .
The resources planned for the country exceed those exercised by the electronic commerce company in the last 4 years together, since in 2017 it was 100 million dollars, for 2018 they increased to 275 million dollars; in 2019, at $ 300 million and in 2020, at $ 420 million, all of which add up to $ 1.095 million.
Source: unocero.com, forbes.com.mx